Bus conversions have become the new, trendy DIY project of choice in recent years—with some incredible results! People turn them into tiny homes, take them cross country to see sights they've always dreamed of, and even turn them into cool business ventures.
Refurbishing a bus is a hefty project to take on, so you're going to need all the help you can get. Read through some of the starter advice we've gathered for you, to ensure you have all of the necessary tools for a successful and rewarding bus conversion!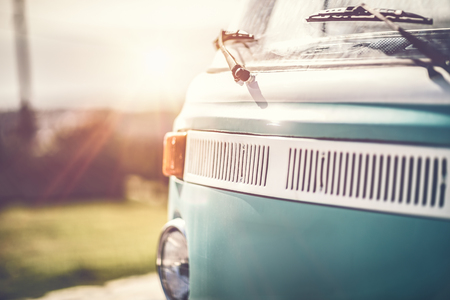 Envision your lifestyle before you buy.
Do you plan on taking your bus on a long-distance road trip or camping at a new national park every two weeks? Or are you trying to create the perfect RV to pack you, your spouse, and your two kids into for a summer long adventure on the road? Knowing the kind of lifestyle you want your renovated bus to support is the first step to determining what sort of vehicle will fit your needs.
Consider size, style, and overall condition when you make your choice. A small shuttle bus may be best if you intend on widespread traveling or camping, as certain roads and campgrounds have length restrictions. If you're looking for more interior space or to accommodate more people, a larger style school bus may serve you better.
Inspect before you invest.
A quality bus is a substantial financial investment—make sure you know what you're paying for before you sign the check. The bus you choose will be the foundation of your project so pay attention to the condition it's in.
Preview a bus before considering it for purchase. Pay special attention to the under carriage as corrosion can be a big issue in your conversion. Become familiar with basic information like the engine type, mileage, how and where it has been used, what sort of lifespan you can expect, and any common issues known that may plague a particular drive-train or model year.
Take extra care to inspect the tire tread and condition before you buy, as new tires can add up to several thousand dollars to your conversion cost depending on the size of bus you're considering.
Figure out what needs to go.
After you find the right bus, determine which parts of it can be used and what needs to go. If there are existing features and infrastructure that you can restore or renovate as is, you'll save a considerable amount of money. That being said, don't skirt around corners—get rid of anything that isn't compatible with the design you have in mind or could be a safety hazard on the road.
Depending on your vision, you may be able to remodel parts of the bus to meet your needs and fit your style without completely replacing them. For instance, the windows may be in good enough condition to keep, or you may want to leave the rear heater if you'll frequently be staying in colder climates.
Start by gutting the bus.
You have to purge before you can create. Deconstruct your bus—leaving the foundation and whatever features you've deemed functional—so you can begin your project with a clean slate. Building from the bottom up is the best way to ensure quality in every aspect and construct your dream bus.
Keep in mind as you hammer away that it might be a good idea to hold on to some of the metal you're trashing before you recycle or dump it. You may be able to reuse some of the materials you pull during deconstruction when it comes time to rebuild. It's a great way to save money on expensive sheet metal that you'll need for restoration.
Once you determine your goals and what'll you need for your bus conversion, check out the wide selection of new and used buses we have for sale at Las Vegas Bus Sales. Whatever you have in mind, we bet you'll be able to find it in our affordable, quality inventory!