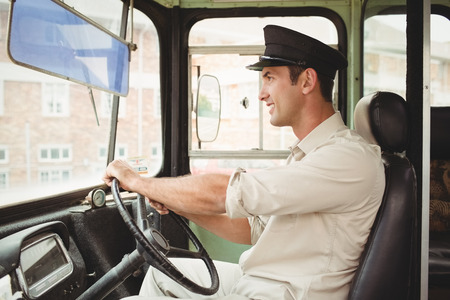 So, you just landed a job as a bus driver. Or maybe you just finished your bus conversion. Maybe your boss put you in charge of the shuttle bus for the first time today. Whatever brought you here, you've found yourself sitting in the driver's seat of a bus for the first time—how exciting!
Driving a bus is a whole different beast than helming a regular passenger car. If you're nervous though, it's okay. We'll walk you through the most important things to remember as you embark on your first-time bus driving adventure!
1) Inspect your bus before each trip.
A bus is a very powerful vehicle. Before you hit the road, you want to make sure everything is functioning properly and ready to go to ensure the safety of you, your passengers, and everyone else around you.
Ahead of each trip, take the time to go through a routine maintenance checklist. Check fuel levels, inspect tires, position your mirrors, and make sure other equipment is working correctly. If you're driving for a city, school district, or other business, this checklist may even be provided to you.
2) Get a sense of your vehicle and its surroundings.
Walk around your bus before you take it out for the first time. This will help you get a feel of the scope and better judge things like turns, lane changes, and stops as you're driving. When you're on the road, you also need to take in your surroundings to further help you make safe decisions on your commute.
If you're not sure if you can make a turn and are having trouble judging based on your range of sight, get out of the vehicle for a closer look at the situation. It's always better to be safe than sorry.
3) Familiarize yourself with the equipment.
Practice operating all the different features of your vehicle, safety and otherwise. Ensure that you can safely and confidently explain what everything does, what all the lights and signals mean, and how to work them.
Take special note of the tools you'll be using regularly as you drive—air and temperature gauges, levers, meters, signals, lights, etc.
4) Keep an eye on your mirrors.
Just as when you're driving any vehicle, your mirrors are one of your most important tools for knowing where you're at and what's around you on the road. Make sure they're adjusted correctly when you conduct your pre-trip inspection and that you're checking them constantly while you drive.
It's especially important that you rely on your mirrors when turning and slowing down your bus to help guide you. Don't forget to learn where your blind spots are though, and to be aware of them as you're driving.
5) Give yourself plenty of room to turn and stop.
Speaking of turns and slowing down, it's important to remember that larger vehicles need more room to turn and take more time to come to a complete stop. When you need to stop, leave yourself a lot of space between you and the vehicles, objects, or people in front of and around you.
For right turns, you'll want to hook the nose of the bus slightly toward the inside lane to help you get around the corner. When turning left, take a full 90 degrees.
6) Pay attention to the road.
The most important thing to remember when driving your bus, or any vehicle for that matter, is to stay focused on the road! When operating a bus, you want your eyes to be 10 seconds ahead of where you are so you can anticipate any next steps. Pay attention to all signs, lights, traffic, and other road conditions.
It may take you a little time to fully get in the zone when you start out driving a bus, but do your best not to let your passengers distract you. Your goal is to transport them safely to their destination. To do that, your eyes need to always be on the road.
Looking to start driving your own new or used bus? Las Vegas Bus Sales has the safe, modern, dependable models you need. Head to our website to check out our vast inventory, come down to the bus yard, or give us a call so our experts can answer your questions today!