To many people the arrival of fall means beautiful foliage, cooler temperatures, and spooky movie marathons. For the extensive population of sports fans across the country though it means something else too—football season!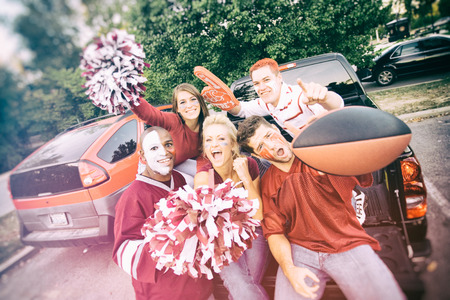 Every dedicated enthusiast knows that when football season hits, it's time to start planning a killer tailgate party. That means plenty of comfort food recipes, boozy punch batches, creative appetizers, and a decked out tailgating bus for the perfect space to host your friends. Use these expert tailgating tips to make sure you score at your next gameday bash!
1) Prep what you can the night before.
The worst thing you can do is wake up the day of your tailgate party expecting to get everything done that morning. Don't rush and waste precious gameday time making food and packing equipment you could've organized the night before!
Any food or drink mixes that can be prepared in the days leading up to your tailgate should be packed and ready to go. If you're cooking something that needs to be made fresh, prep the ingredients as much as you can—cut the veggies, measure out the spices, mix the marinade. That way you can just grab, open, and combine when your guests get hungry.
2) Pay attention to food safety.
You might be able to squeeze the uncooked burgers in the same cooler as the beer, but that doesn't mean you should. The last thing you want to do is make your tailgating guests sick for the game! Take care to practice proper food storage and preparation before, during, and after the party.
Have one cooler designated for drinks and one for perishable foods. Securely wrap and store raw meat at the bottom of your food cooler and work your way up, leaving ready to eat cold items—sandwiches, condiments, etc.—on top. After the food is thoroughly cooked, make sure you have the right tools to keep hot food at a safe temperature so bacteria doesn't have the chance to grow and infect your party!
3) Bring plenty of food and drinks.

Good food and strong drinks are what a tailgate is all about! This is the most important area to deliver if you want your tailgate to be unforgettable.
Stock up on beer and don't forget sodas and juices for mixers, and water to stave off the hangover. One or two big-batch cocktails that can be mixed and refrigerated the night before will make your guests happy and your life a lot easier.
Have a few easy crowd-pleaser meals to keep everybody full and satisfied—burgers and dogs, mac & cheese, slower-cooker chili, casseroles, etc. Then, focus on the snacks. Specialty dips, chips, and classic appetizers are always a hit. Make your party even more fun with something both football-themed and delicious!
4) Don't forget equipment essentials.
Once you've planned the menu, create a checklist of everything you need for the day to go off without a hitch. List the serving and cooking dishes and utensils, chairs, tables, tents, coolers, condiments, and clean up supplies you'll need to make it happen. Mark what you have as you pack the day before, and always bring more than you think you'll need.
A truly superior tailgate host will have a few fun activities planned to entertain guests in between eating, drinking, and the game! If you have one or two portable TVs or radios, bring them. There's always a game to listen to going on somewhere. Bring a few classic party activities to get partygoers riled up for the game too. Think beer pong, cornhole, horseshoes, and a football to toss!
5) Clean up after yourself.
Respect the property you're tailgating on and the other tailgaters around you by taking care of your messes promptly and thoroughly! Be sure to pack plenty of trash bags for garbage and recycling. You'll want to hang them off your bus door, tape them to a table, or tie them to a tree to keep them from attracting bugs on the ground.
The most efficient way to clean is as you go. Take a few minutes to wash the tongs and scrape the grill after you fry up the burgers. When you see the chicken wing dip dish is empty, at least get it soaking in warm water. Prep what you can throughout the event but save the thorough work for after the game.
For a superior and unforgettable gameday experience for you and your friends, tailgate with your very own bus! At Las Vegas Bus Sales, we offer a wide selection of new and used buses that you can use to throw an amazing party. Contact us today so our experts can help you find the perfect bus for your next tailgate!