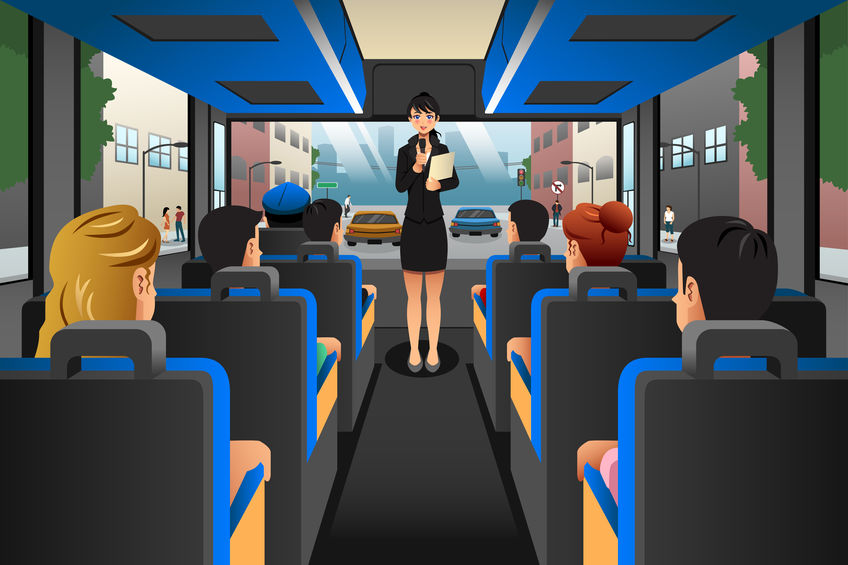 Being a tour guide is a great way to become extremely knowledgeable in a field of your choice. You get to meet new people while educating them on a topic you are passionate about, which is a dream job for many. But to become an engaging and well-liked guide, you must practice and put in that extra work to get those five-star reviews!
Here are five tips to help you become a better tour guide.
1) Be Personable
You will spend a decent amount of time with your tour group, so making them feel comfortable around you is important. Instead of just spitting out facts at people, have some personal anecdotes ready to lighten things up. The more personable you are, the more your group will get involved and ask questions, creating a memorable experience for everyone.
2) Face Your Group When Speaking
When sharing important information about the tour, be sure to turn around and face the group. Many guides make the mistake of walking and talking without turning back to the people. This makes it hard for the group to hear you and can make them feel like you are trying to rush through the tour.
Pro Tip: To ensure the whole group feels engaged, move your gaze to each person while speaking.
3) Be Punctual
As the tour guide, you should arrive early at the meet-up location. Time is precious, and it is disrespectful to make people wait for you, especially if you are touring a hot destination where many are on vacation with limited days to explore. Ensure your tour doesn't go too much over the set time you told the group, as this could cause people to miss their next activity for the day. Respecting your group's time speaks to your professionalism as a tour guide.
4) Don't Stress about Perfectionism
Depending on the number of tours you do a day, you are bound to make a few mistakes along the way or get thrown off by a question from a group member. Don't let this discourage you! You will not have a perfect tour every time, but that is to be expected. If everything went smoothly on each tour, you might find yourself getting bored with it.
Take each tour as an opportunity to improve, learn something new, and laugh at yourself if you slip up. People appreciate a tour guide that goes with the flow and exudes positive energy into the crowd.
5) Provide Transportation
Many people find that giving tours by bus allows them to cover more ground and lets more people sign up for their tour, especially those who cannot walk long distances. Investing in a tour bus could be a great asset to your business and make you stand out from the competition.
At Las Vegas Bus Sales, we have a great selection of coach and shuttle buses that would be perfect for your tour business! With comfortable amenities like heat, AC, TVs, Wi-Fi, and ADA accessibility, you can trust us to provide you with the perfect bus to fit your needs, whatever they may be.
To learn more about the buses we have available, give us a call at (877)456-9804 today!