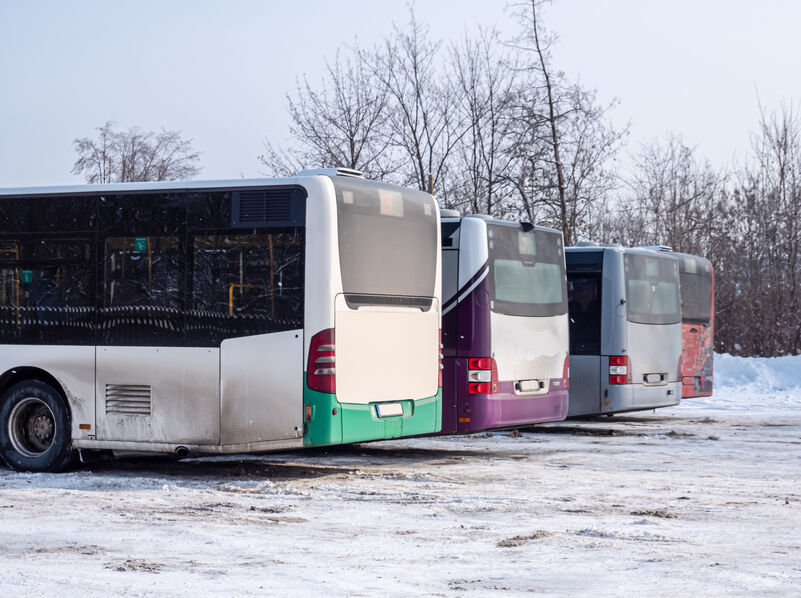 Proper precautions should always be taken to ensure the safety of your bus fleet but especially during the unpredictable winter months. From heavy snowfall to icy roads and pavement, driving in winter weather can be dangerous, especially if your vehicle is not in optimal condition!
Here are five ways to prepare your bus fleet so you can ensure the safety of all your drivers and passengers this winter.
1) Check Windshield and Wipers
Get up close and personal with your windshield. Are there any cracks in the glass? Do the wipers look worn? Is there too much space between the wipers and the glass? How are the windshield washer fluid levels?
Having your windshield wipers replaced at the beginning of each season is a great way to prevent damage and ensure your windshield will be ready to take on any fog, sleet, or snow. You can also treat your windshields with chemicals to prevent them from icing or fogging up.
2) Put on Winter Tires
Switch your fleet to winter tires with a rugged tread design to help your buses gain traction on slippery roads. All bus tires should be checked often for tears, tread wear, air leaks, and proper inflation levels to ensure they are ready to take on the winter weather.
3) Check Heating System
Heat will be necessary during the cold months, so flush out dust and debris accumulating in your heating system throughout the year and ensure it is blowing warm air. Check the water valves and see if there are any leaks in the system. Consult your mechanic if you notice anything unusual, and get the heating system serviced before it gets cold.
4) Inspect Brakes
Ensure that brakes are adjusted and well-greased. Brake line antifreeze can also help brakes stay lubricated in cooler temperatures!
Anti-lock braking systems (ABS) are also helpful when driving on ice or snow. With ABS installed on your buses, your bus drivers can brake and steer simultaneously, which helps prevent skidding, locking, and hydroplaning.
5) Invest in Driver Training
Some drivers may not be experienced driving on icy, snow-filled winter roads. It is important to give your drivers the training they need to keep themselves and their passenger's safe while on the road. A refresher course for drivers will remind them that winter has its own rules and prepare them to be able to respond in any emergency.
If you're finding several issues with your buses before the winter season begins or you're looking to upgrade a few members of your fleet, Las Vegas Bus Sales has exactly what you need. Our wide selection of new and used buses makes finding the next addition to your fleet simple. We aim to provide you with a value-based purchasing experience while building a long-term relationship.
Contact us at (877)456-9804 to discover your options and learn about buses that have yet to hit the site!