The bus is an excellent option for family travel for both long-distance and local trips. It's comfortable, affordable, and can be a fun adventure for kids!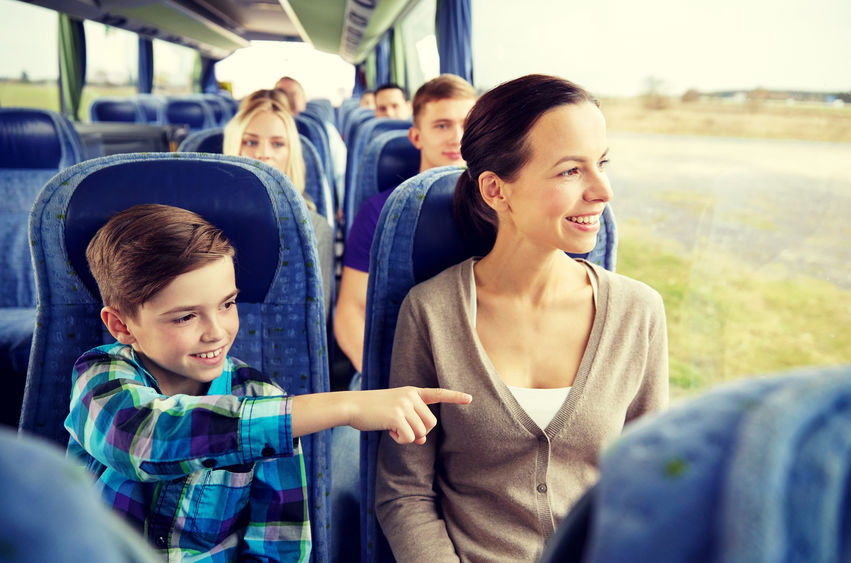 Sticking your kid in one seat for several hours might sound like a recipe for disaster, but with the right planning it doesn't have to be. Use these seven tips to enjoy all the advantages of bus travel for your next family trip without the hassle of an unhappy kid!
1) Give yourself plenty of time to get there.
If you're a parent, then you already know that doing anything with children makes it twice as complicated and twice as time-consuming. When the morning of your trip arrives, allow yourself more than enough time to make it to the bus station. Account for any traffic, packing last minute bags, and a few rounds of wrangling the kids!
2) Dress comfortably.
Sitting for a long period of time will be much easier on your kids if they're comfortable. Pick out one or two cozy outfit choices for them the night before you leave and let them choose their favorite in the morning. You might even want to bring a soft blanket and a neck pillow if it's going to be a really long ride!
3) Tell them what to expect.
If children know what their trip on the bus is going to look like, they'll be more prepared and calmer when the day arrives. Explain to them where you're going, how long it will take to get there, and how they're expected to behave. You'll save yourself the headache of an, "are we there yet?" every hour.

4) Bring snacks for a long trip.
One of the top complaints from kids on a road trip is that they're hungry! Avoid hunger-driven temper tantrums by coming prepared with a variety of snacks to hold them over. Pack a few of their favorites to use as incentives for good behavior and to keep them happy and excited. Just leave anything too messy or packed with sugar back in the pantry.
5) Keep them occupied.
Right up there with hunger, tied for the most common travel objection from children, is boredom. This too can be prevented with a strategically packed bag of activities to keep your kids busy! Grab a few classic options like coloring and activity books, along with something more high-tech like a tablet with a few downloaded movies or TV shows. You'll be at your destination before they have time to make a peep!
6) Follow safety rules.
For your safety and out of courtesy for those around you, make sure your kids understand the rules of the bus before your trip. It'll be your job to keep track of them to ensure they're wearing their seatbelts, keeping their hands out of the windows, and staying seated while the bus is moving.
7) Come prepared for any situation.
You don't want to overpack for your bus trip, as you'll already have your kids and all your normal luggage to worry about, but you should still throw in a few essentials just for the bus ride. Pack a handful of baby wipes and tissues to clean up any messes your kids might make. A little bit of hand sanitizer is probably a good idea too, to kill some of those bus germs before anyone starts snacking!
At Las Vegas Bus Sales, our goal is to provide you with the best information and highest quality selection of new and used buses in the area. Contact us today to learn more about our convenient financing and leasing options to help you get the bus you need as soon as you need it!