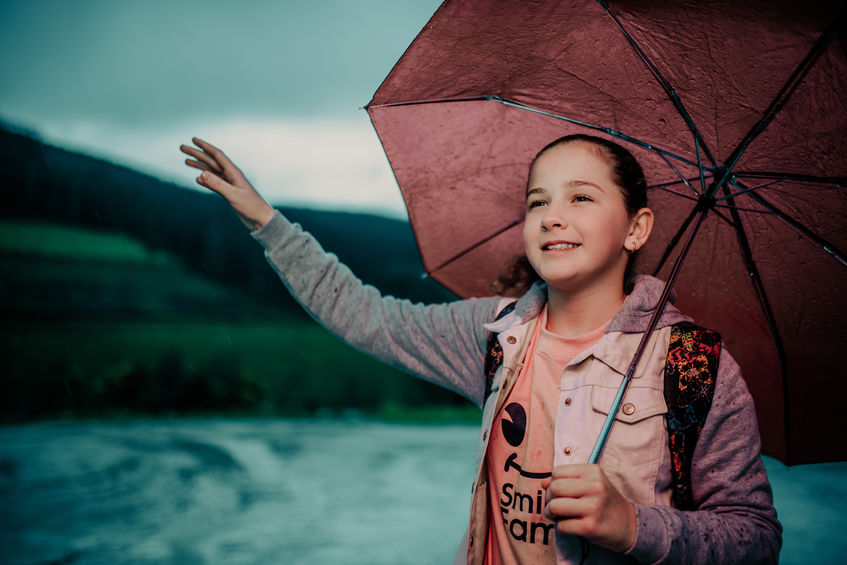 There are a few things you can always rely on when the first few weeks of September come around. Kids going back to school and the temperatures starting to cool are both among them. While there's still some time before the really cold weather hits in regions that see snow, it doesn't take long for fall mornings to get chilly or even downright frigid—especially if you're a kid standing outside waiting for the school bus.
Make your child's school bus experience as comfortable as possible with these tricks for keeping them toasty at the bus stop!
Dress them in layers.
Because temperatures can range greatly depending on the time of day, layers are always the best bet for any fall wardrobe. Have your child choose the outfit they want to wear the night before and then layer them up with an extra sweater and outer jacket for the morning. This way, they'll be comfortable at the bus stop but able to quickly adjust after boarding if the bus is warmer or they get restless in their heavier layer. Also keep in mind that it's the extremities that lose heat the fastest, so make sure they're wearing a hat, gloves, and scarf as well.
Minimize time spent outside.
The first few weeks of school are usually pretty mild as far as weather goes. Use this buffer to get a good idea of what time the bus arrives, on average. When the mornings start to get chilly, you can plan your routine around this arrival time. Have kids ready and waiting inside until a few minutes before the bus typically arrives or, if your stop is close enough, until they see it coming around the corner.
Make time for breakfast.
The more fuel your body has, the more heat it can produce. Help keep kids warm at the bus stop by ensuring they have calories to burn! Meal prep breakfast the night before or on Sundays for the entire week. Or, have a few easy grab and go breakfast items kids can munch on as they get ready in the morning, so they're nice and fueled by the time they head to the bus stop. If you want, you can also send them on their way with a thermos of hot coco or tea for a little extra warmth.
Las Vegas Bus Sales is committed to the safety and comfort of passengers all over the nation both young and old. That's why we provide new and used school buses that school districts, parents, and children can feel good about using.
Shop our inventory online or call us today for help finding the next school bus for your fleet!