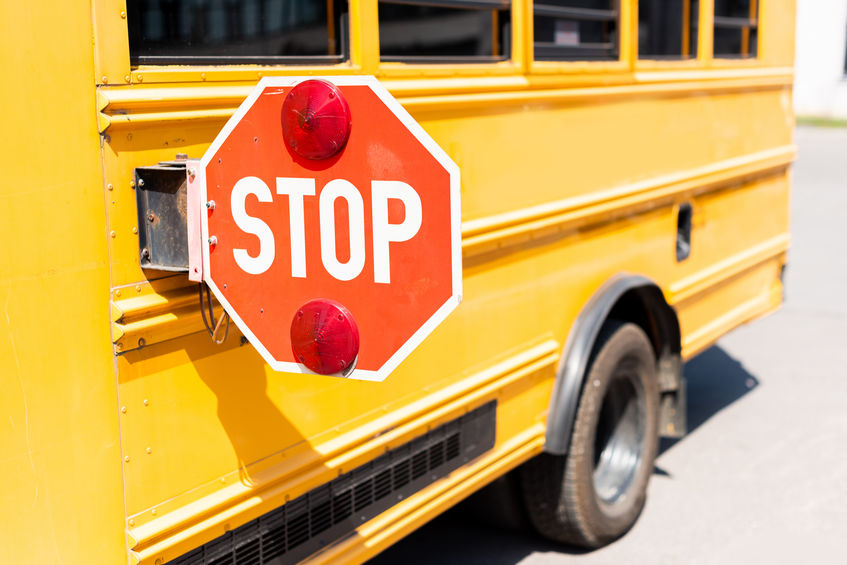 For parents, students, and teachers, they don't need a reminder that the end of August and beginning of September means heading back to school. For drivers, this means sharing the road with school buses again and more kids and teenagers making their way to and from school in morning and afternoon rush hour.
While school bus and traffic laws vary by state, there are a few things every motorist should remind themselves of as a new academic year begins. Follow the rules below for respecting buses and students when school is back in session!
Stop means stop.
If you get stuck behind a school bus, be prepared to stop often. It may be annoying, but if you don't, you're not only breaking the law, but also putting children's safety at risk. You can pass a school bus in a two-lane road, just wait until it's moving again and up to full speed. You'll know to stop as the driver puts out their stop sign and the bus lights start flashing—yellow means slow down (not speed up to pass!) and red means come to a full stop. Don't move until the sign is gone, the lights are off, and the bus starts moving.
Keep distance between you and the bus.
You should always give a school bus about 10 feet of space when following behind, whether you're in motion or stopped. You never know when a child might dart behind the bus trying to catch it as it comes to a stop. Leaving this space on the road is important to ensure you're ready in case the bus comes to a sudden stop due to bad weather or another unexpected issue. Plus, it keeps you out of the driver's blind spot.
Slow down in school zones.
As school starts back up, the school speed limit reactivates too. Be on the lookout for school zones so you can slow appropriately to pass, especially in the mornings and afternoons. Also keep in mind that some students will likely be at school before normal hours getting dropped off and staying later for after-school activities. Proceed cautiously until the zone ends, keeping an eye out for children in the area.
Yield at crosswalks.
When you start to see school buses back on the road, expect to see crossing guards with them. Guards will be stationed not just in school zones, but in neighborhoods around schools to direct traffic around bus stops and for students walking to and from the building. Pay attention to them as you approach and watch for their signs to obey. Take care not to block crosswalks either as you stop at red lights.
Don't forget about bicycles.
Many older kids and teenagers ride their bikes to and from school. Be on the lookout for bicycles on the road and try to give them at least three feet of space. If you're behind a bike, move slowly in case they stop or turn unexpectedly. As you drive through neighborhoods and around schools, check for bikes coming out of driveways or from behind parked cars as well.
Be alert and proceed with caution.
As you're following these road rules, keep in mind above all else that children can be unpredictable. Unfortunately, kids don't always follow all the safety practices they should. Older kids get lazy and distracted, while younger children may not fully understand them in the first place. It's your responsibility as a driver to be vigilant. Go slow, check your mirrors, and always give extra time to buses and pedestrians to account for children's mistakes.
As a leading provider of new and used school buses across the nation, Las Vegas Bus Sales always operates with the safety of you and your passengers in mind. If you're in the market for another school bus for your fleet, contact us today and we'll set you up with exactly what you need!