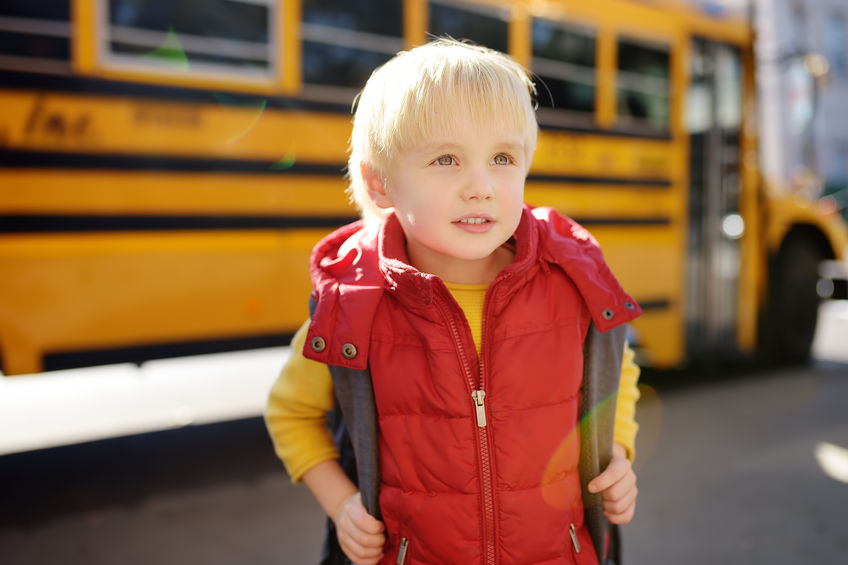 For us seasoned adults, the idea of taking the bus somewhere is pretty simple. Most of us have done it so many times by the time we're older, we forget just how nerve-wracking that first bus trip can be. For your kids, that first ride is probably going to be on a school bus.
If your child is starting a new school, going to school for the first time, or coming up on the first year you won't be able to drive them every day, the idea of taking the bus may be scary. Fortunately, there are some simple steps you can take to help your child overcome their fear and get more comfortable riding the school bus!
Walk them through the process.
There are a lot of great resources available for parents to teach their kids about the school bus. You can look for children's books about it, episodes of favorite TV shows, or kid-friendly instructional videos online. You might even consider doing a bus ride demo where you act out the process at home together or with their toys. Knowing what to expect and how to behave will make the prospect of that first bus ride much less intimidating. It might even get them excited once they see how fun the school bus can be!
Show them the bus route.
Another good step to familiarize your child with the school bus is to do a practice run of their ride in the car. By showing them how and where the bus will transport them, you will help relieve their fear of the unknown. Have them wait at their real bus stop for you to pick them up. Then, drive the route they'll be taking to school. Point out milestones along the way, such as parks or familiar buildings, that they can use to recognize when they're getting close to home and school. Finally, show them where they'll get off at the end of the ride in each direction.
Introduce them to the bus driver.
A familiar face to greet them on the bus can really help put your child at ease for those first couple of rides. Reach out to your child's school or district to ask about any "meet and greet" opportunities they might have available before the school year starts. You could also ask the driver for a quick intro on the first day of school as your child gets on in the morning or off at the end of the day.
Or, set them up with a bus buddy.
If you can't wrangle a bus driver meet, try to find your child a buddy to ride to and from school with. This could be an older sibling, neighbor, or other friend in the area who will be on their same bus. It would be a good idea to set up playdates ahead of time, so kids can spend some time getting to know and feel comfortable with each other. A few trips to the local playground can help you and your child make these connections too.
Pack a few bus activities.
One of the most effective ways to calm a child down? Distraction! Sending your child on the bus with things to keep them occupied can help manage their fear and anxiety. You can give them a journal to write in, book to read, coloring book, or even a few favorite snacks. Packing a special surprise for them to open on the bus ride home can also give them something to look forward to at the end of the day, instead of just letting that bus fear build up.
Talk about their fears.
If your child is afraid of the bus, the best thing you can do is find out what exactly is scaring them about it and talk it out. Are they afraid of older kids bullying them? Or nervous about the unfamiliar route? Do they get motion sick? Pinpointing the anxiety will allow you guys to come up with strategies that help them cope with and overcome their fears.
Las Vegas Bus Sales is committed to being the largest provider of, and your best option for purchasing, new and used buses across the country. Our new and used school buses are in prime condition with many advantageous features, so children and their parents can feel good about the ride to and from school.
Get in touch with our team today for more information about our expansive bus selection!