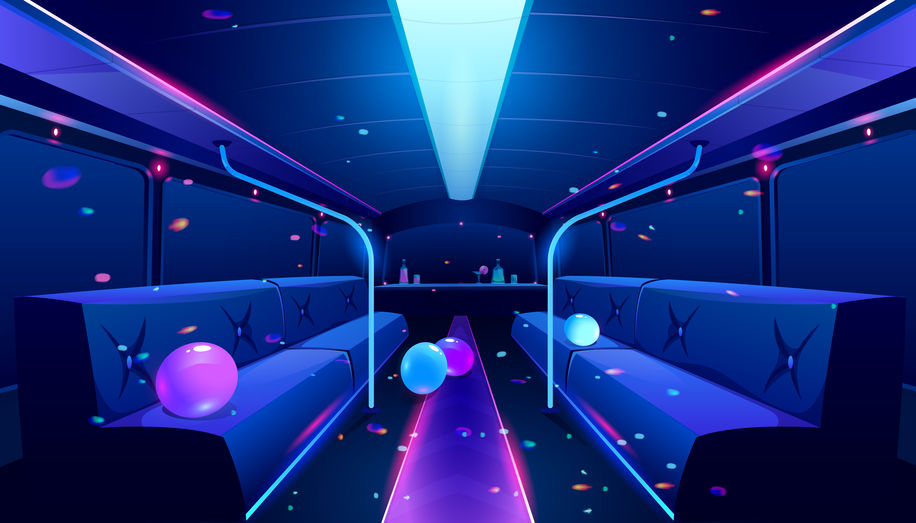 There are a lot of creative ways to turn a bus into a business. You could do something fun and interesting, like a food truck. Or, you could go more traditional with a simple charter bus company. But one of our favorite bus businesses (especially for here in Las Vegas) is a sort of combination of the two—a party bus business!
Party buses are a popular way for groups to keep the festivities going as they travel to their destination. Starting your own party bus company can be a lucrative endeavor if you take your time and do it the right way. If keeping everybody's party alive in transit is your dream, here are a few quick tips to get you started!
Start with a clear, detailed business plan.
Before you look at buses or start coming up with playlists, you'll need to map out the specifics of what it will take to get your new business off the ground. Come up with a well-researched and well-thought out plan that considers factors such as startup and maintenance costs (buses, gas, maintenance/repairs, drivers, insurance, etc.), profit projections, and your target market.
Acquire all necessary permits, licenses, and insurance.
Operating a party bus comes with risks, so it's important to meet all of the necessary legal requirements before you get started to avoid any safety hazards or hefty fines. First and foremost, you'll need to obtain all of the required state and local permits and licenses for both commercial vehicle and business operation.
Once your permits are set, you'll want to invest in good insurance to protect yourself and your drivers from liability. Finally, move on to the more specific licensures, such as for playing music and open containers on board.
Choose the perfect bus and start building your brand.
After you've jumped through all the legal hoops required for your party bus business, you'll need a fleet of buses to do the actual work! Look for vehicles that are safe and include the amenities you need to operate your enterprise. Once you have your buses, begin the customization process to set yourself apart from the competition.
Catering to bachelor and bachelorette parties? Install a dancing pole! Targeting a more corporate crowd? Interior lights with classier color options might work best. It's these small details that will give your customers a one-of-a-kind party bus experience they won't find anywhere else—and keep them coming back for more.
If you're looking for vehicles for your party bus business that will impress without breaking the bank, check out our selection of new and used shuttle buses over at Las Vegas Bus Sales! With low mileage, affordable pricing, and a standard of quality that can't be beat, our vehicles are exactly what every hopeful bus business owner needs to get started.
Contact us today to learn more!