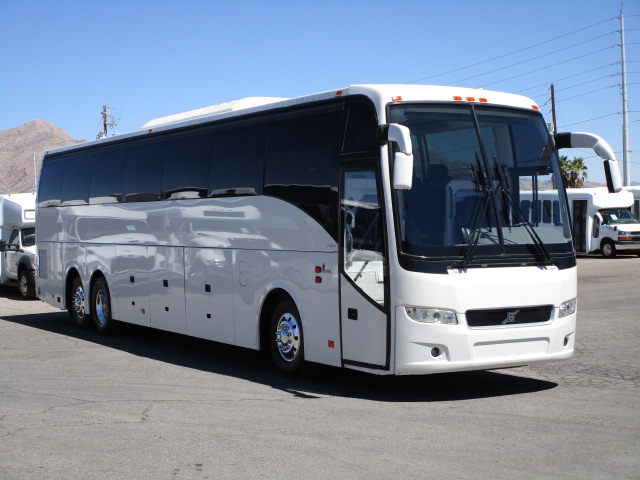 When you work in the bus travel industry, there are plenty of different options to choose from to build your fleet. With so many different types of buses to consider—school buses, trolley and transit buses, coach buses, shuttle buses, minibuses, etc.—it can be difficult to decide which ones are worth the investment.
As one of the leading providers of new and used buses in the country, the experts at Las Vegas Bus Sales have come to learn that no successful fleet is complete with a coach bus. Here's why:
With a coach bus, you'll appeal to a wider variety of clients.
Coach buses can seat anywhere from 36-60 passengers comfortably. This spacious size combined with the extra amenities available in most models allows your company to meet a wider variety of needs and provide your services for more events, compared to other types of buses. Coach buses are popular options for weddings, corporate events, school field trips, sports teams, guided city tours, and more.
Distinguish yourself from the competition by offering passengers a higher level of comfort.
Travel companies with basic fleets comprised of shuttle buses, transit buses, etc. are one in the same to most customers. Coach buses come equipped with many attractive amenities, such as air conditioning, reclining seats, bathrooms, comfortable upholstery, entertainment features (TV, WiFi), foot rests, power outlets, and more. The option of upgrading to a coach bus will set you apart, particularly to customers who are willing to pay a little more for quality and comfort.
Coach buses are ideal for long-distance travel.
The aforementioned amenities with which coach buses are available, along with the ample storage space most have overhead, underneath, or in the rear of the vehicle, make them a top choice for long distance trips. With a coach bus in your fleet, you can expand the reach of your company by offering long-distance routes to the many travelers who prefer the convenience and cost-efficiency of bus travel.
The large stock of new and used coach buses we have available at Las Vegas Bus Sales has something for every company looking to take their fleet to the next level. Stick with the basics and take home a standard model or opt for something with a little more luxury. Whatever you need, you'll find it in our inventory.
Contact one of our team members today to learn more about any of our coach buses or other vehicles for sale!