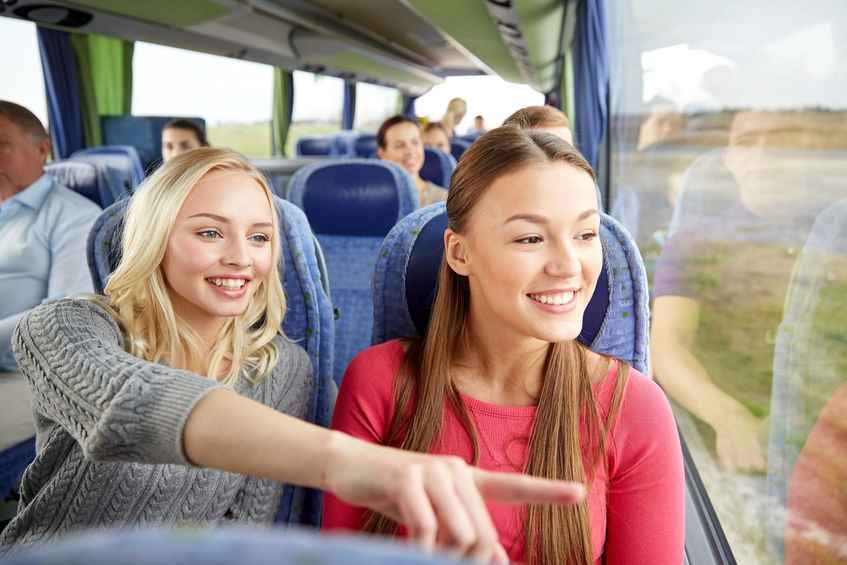 When it comes to long-distance travel, most people assume that flying is the best option to get you from point A to point B. Air travel is certainly the fastest method for many journeys and, of course, the most efficient choice for overseas travel. But if you're sticking to one continent in your adventures, you might be surprised to find that good old-fashioned bus travel offers more advantages than flying.
Coach and charter buses have come a long way over the past few years, thanks to advancements in technology. Maybe the buses of old couldn't compete with airplanes for long-distance travel, but these days buses can often be the better option. The next time you start planning a long-distance trip, consider these reasons why bus travel might be the way to go!
1) Bus travel is cheaper.
The most obvious advantage to traveling by bus instead of plane is affordability. Bus tickets are substantially cheaper than airplane tickets, especially when you factor in additional fees like baggage, airport food, seat upgrades, etc. Even a ticket for a luxury bus is going to run you far less than a standard economy class flight. If a bus can get you to the same end point, wouldn't you rather hold on to that extra cash and use it on your actual trip?
2) Bus travel requires less preparation.
Flights usually need to be booked at least a few weeks or months in advance. When you take the bus, you can go to the station, buy your ticket, and jump on the next ride out that same day! This allows you to be more spontaneous as you're exploring new places. Plus, when you're flying you have to arrive at the airport a few hours in advance. 10am flight? Better get there at 7:30 or 8. That's two extra hours added on to your travel time just to go through security lines and sit around waiting to board.
3) You can bring more stuff on a bus.
Another area where buses win out over airplanes? Luggage! Long-distance motorcoaches have plenty of storage space for your luggage overhead and in an under-bus compartment. Unlike a checked bag at the airport, there's no chance your bag will end up missing or damaged. There are fewer bag restrictions for bus travel too, so you won't have to waste time measuring out liquids or weighing your bags. Oh, and did we mention you can bring all your bags on a bus for free?!
4) Buses are more comfortable.
Arguably the worst part about flying is the way they cram all of those people into tiny seats that feel like they're right on top of each other. Coach buses, on the other hand, have plenty of leg and seat room for you to spread out and relax. Many long-distance travel buses have luxury leather seats (for no extra cost!) that are easily adjustable. Also, when you're on a plane you're pretty much stuck in your seat the entire time. Long bus trips usually include pit stops for you and the driver to stretch your legs and get some air.
5) Buses are more conveniently located.
In most countries you'll find plenty of central and local bus stations to get you as close to your destination as possible. Not only does this eliminate the need to call an Uber or find a ride when you arrive, but it also gives you direct access to more travel locations. Airports are still pretty much limited to major city centers, which means you'll need to find ground transportation when you arrive. Another thing to consider is that bus transfers are quick and easy, while layovers can be several hours or more.
6) Entertainment is more accessible.
If you want to watch your own show or movie or surf the web on a flight, you'll likely need to pay for WiFi by the hour. Most modern buses supply WiFi for free and even have power outlets to charge your devices! The extra time you'll spend traveling by bus will go by much quicker when you can enjoy your own shows, movies, reading, and games online.
Las Vegas Bus Sales is proud to offer an extensive inventory of new and used coach buses, shuttle buses, and more from manufacturers you trust. Take your travel business or organization to the next level with a bus that can go the distance without sacrificing the safety and comfort of your passengers.
Give us a call at 877-456-9804 to learn more about the vehicles we have available!