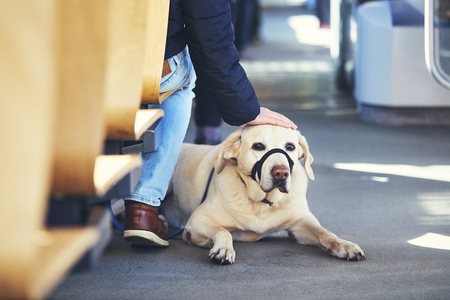 Buses and trains are convenient travel solutions for many individuals all over the world. They're inexpensive, efficient, and even eco-friendly alternatives to single-passenger transportation!
If you're a dog owner who relies entirely on public transportation for your daily commute and regular transit needs, there will likely be a handful of occasions where you need to bring your pup along for the ride. Luckily, many bus lines, subways, and trains do allow four-legged passengers—as long as you plan ahead and follow a few key guidelines!
Know the rules.
Research potential restrictions on pet travel before taking public transportation with your dog. Call the bus or train line ahead of time or verify online that they allow pets. Even if animals are allowed, you'll need to make sure you and your pup meet the requirements.
Do they only allow service animals? Are there size or breed limitations? Restricted hours for pet passengers? Will you need to purchase a fare for your dog? These are rules you need to be aware of before you try to board the subway with Buddy half an hour before his vet appointment!
Make sure your dog can handle it.
Who wants to ride the bus with a dog that won't stop barking? Or one that won't stop zooming up and down the aisle? Only take your pooch on a public vehicle if they are well-trained and properly socialized.
Your dog should be able to obey basic commands—sit, stay, etc.—if you're going to travel with them in a confined, shared space. If they get aggressive, bark incessantly, or cannot be controlled in new environments, you'll need an alternative method of transportation.
Only travel with a healthy dog.
For the health and safety of both your dog and those around you, make sure your pup is healthy and well-groomed before taking them on public transportation. When you're researching the regulations of pet travel on your bus or train line, check to see if you'll need to present any vaccination or health records so you can be prepared.
Keep your dog clean and smelling fresh too. People will be far more accommodating for a well-groomed pooch than they will a scraggly, smelly one!
Be considerate of fellow passengers.
This may be difficult to believe, but not everyone is a dog lover. Be courteous to others as you board and ask permission before sitting next to someone with your dog. This will help avoid issues due to allergies or phobias.
When riding with your pup, head toward the back of the bus. You'll stay out of the way and it'll be less crowded (and stressful) for both of you.
Try to keep your pup comfortable.
You want your dog to have a good travel experience, so they stay calm and on their best behavior— especially if you need to take them on public transportation regularly. Bring treats to reward and encourage good behavior, and a few of their favorite toys or objects for reassurance.
If you're traveling long-distance with your pup, pack enough food and water to keep them satiated and hydrated for the trip. Be careful not to overdo it though, keeping in mind that you don't know how many bathroom breaks you'll get.
Looking for a new or used bus to upgrade your business, round out a public transit fleet, or just for your next big trip? At Las Vegas Bus Sales, we carry all makes of buses to meet your transportation needs and fit your budget. Give us a call at 877-456-9804 to schedule a closer look at our inventory!