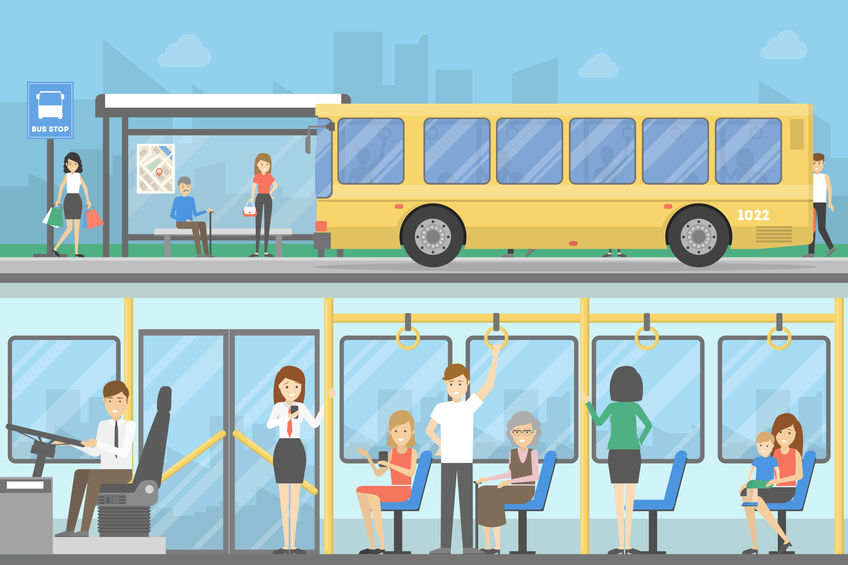 Public transit buses, trains, subways, and trolleys are all great options for getting around a city. Taking public transportation saves you money, reduces traffic and pollution, and leaves you with more unoccupied time to unwind or be productive.
In general, public transit systems are perfectly safe for anyone to use. There can be some seedy activity and potential hazards though if you're not properly prepared for your commute. Follow these tips for public transportation users to ensure your ride is safe and enjoyable!
Plan your route ahead of time.
Before you head out to catch your bus, look up and memorize (or screenshot) the transit schedule, any transfers, and the required fares. This will help you minimize wait times and avoid having to run to catch your ride—or missing it altogether.
Keep to well-lit areas.
When you're waiting for the bus to arrive or exiting at a stop, do your best to stay in busy, well-lit areas. Waiting around in dark or deserted areas makes you an easier target for thieves and other criminals.
Be observant.
While you don't need to be fully on guard when using public transit, you do need to remain alert to what is going on around you. If you get distracted or doze off, you could miss your stop, end up in the way of people entering or exiting, or have something stolen.
Don't display valuables.
As you travel on the bus, subway, or train, keep your belongings close and any valuables out of sight. Flashy jewelry, large amounts of cash, and high-end electronics will draw the wrong kind of attention to you. Have your exact fare ready to go and stash everything else away until you exit the bus and arrive safely at your destination.
Public transportation safety begins with organizations providing quality vehicles for their passengers. Las Vegas Bus Sales can help you with that via our expansive inventory of new and used buses for sale. You can pick up new buses for your public transit organization or private company at our Las Vegas lot or we can deliver anywhere in the U.S., Canada, or even Mexico.
Contact us today for more information about our available buses!